>> Tuesday, July 31, 2007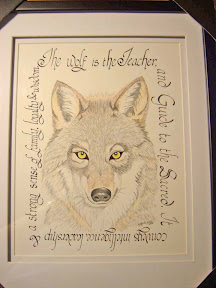 "The Wolf is the Teacher" - By Melissa Muir. Done in Prismacolor Art Pencils, ink and watercolor. June 2006


Generally when I make a picture, or painting, I make it especially for the person that it is intended for. I take a trait that I see in them, and help their totem come forward.
Totem animals are from Aboriginal culture. Some people are familiar with this concept, some know it as a spirit animal. However you know it (or don't know it), please keep in mind that totems are not to be taken lightly. These are spirits that are here to help you, whether you are aware of it or not. They can be your favourite animal, or one that seems to be around you all the time. Even ones that you are scared of, can be your totem. Sometimes they stay with you forever, some are just there for the particular time in your life and may be replaced with another animal. Remember, they are there to help you when you need guidance. For more info, click here.
The picture of the Wolf is for my friend and collegue, Daryl. I worked with him for two years at my school, and he is one of the best teachers I have ever worked with. We got along really well, talked about a lot of stuff, and he understood alot of the stuff that I was going through during that time, as he had experienced the same thing. He accepted a higher position within the school system, but that meant he had to move to another school. When I heard that, I was happy for him, but very sad, as I would be losing a friend at the school that I would interact with everyday. With that I knew I had to make him a picture.
Since Daryl was a teacher, I figured that the Wolf would be the totem for him. After finding more info about the Wolf, I realized that I found the perfect one. The Wolf isn't just about being a teacher, it's about being willing to be able to teach the hard lessons in life. To be able to incorporate a sense of family where ever you go. Being able to take the lead; be strong and have the intelligence and wisdom to know when you are needed and what is needed from you.
"Killer Whale & Wolverine" by

Melissa Muir

.

Done in Acrylic and Pearl Ex powders. April 2007
This painting is for my friend and collegue, Adam. Previously, he had seen some of my doodlings, and was interested in a painting of a killer whale, or something that would convey "Warrior" or "Soldier". I had that in the back of my mind, while I worked on another project.
Then came the news, Adam was resigning from his teaching position to take a full-time position with the Canadian military. He was a reservist before, and it was his dream to get into the military full time. That was a major shock. I was in his classroom, this past school year, so I got the opportunity to get to know him better as a teacher and person. Adam is a wonderful teacher, and very disciplined with his students. He was always ready to joke around with the kids, and the staff, and had no qualms about letting someone know if something was not right. The staff lost a great teacher, but Canada gained a great defender.
Our school had a big farewell thing for him. Students, parents, media, mayor and members of Parliment were there. Adam was floored. We all wanted to say goodbye to him, and to tell him to take care of himself (Afgahnistan being fresh in our minds). Former students came and teased him about some of the stuff he taught them, others sang songs, others just told him how he impacted their lives.
I knew I had to give something to Adam. I remembered that he wanted a Killer Whale, but I didn't think it really conveyed the warrior sense he wanted. I thought about it, and recalled that one of the fiercest animals on earth is the Wolverine. I researched more about them, and realized that instinctively Adam knew that one of his totems was a Killer Whale, while the other I realized was his warrior-self, the Wolverine.
The Killer Whale holds the teachings of fearlessness, beauty, power and balance. It conveys a hidden creativity that should be brought forth. Also a strong sense of family is tied with it.
The Wolverine is a master Teacher, a survivor, defender of what is right. Encourages you to pursue your dreams, and promotes courageousness, and cleverness.
I wanted this to be in the North West Coast Aboriginal style, since it had a whale in it. I researched long and hard, studied every piece of art I could find in this style. I am really proud of this painting, as it made me stretch my skills, and I used a medium that I was unfamiliar with.
To the recipients of my paintings, may your totems guide you, listen to them and heed them well.