>> Monday, July 30, 2007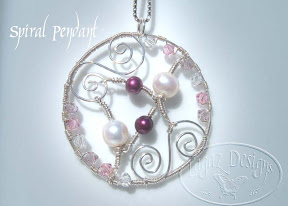 Since this is about my jewelry, I had better post some!

This piece is my Spiral Pendant. It's my first time doing wire wrap with anything. I just studied pictures mostly to figure out how to do this technique when I started out. My greatest inspiration was/is Eni Oken.

This is made with 20 gauge Sterling Silver wire, with 24 gauge Sterling Silver wire to make the wrapping. Swarovski bicone crystals (4mm) in Cantaloupe, Crystal and Rose. White, and dyed cranberry freshwater pearls complete the circle. Diameter is 4.8 cm (1 7/8 inch).

I got hooked onto this type of jewelry making over the 2006 Christmas holiday season. I was very sick from about November to almost February, and I wasn't allowed to do anything! Not that I could, just walking around had me coughing my brains and lungs out. Eww.

I had strung beads before, as I have a scar on my neck from thyroid surgery, and store bought necklaces didn't hit the right place to cover it. But as I was sitting / covalescing on the couch, I wanted to do something more. So I surfed the web...ALOT. I found examples, and tutorial, and a wonderful forum where people got together to talk about jewelry making.

I think I found my passion!